New partnership on Helpline for Lewy body dementia
Publication date:

July 23, 2018
We are proud to be launching a new partnership with The Lewy Body Society this week, to offer expert advice and information on Lewy body dementia through our Admiral Nurse Dementia Helpline.
Our Dementia Helpline is for anyone with a question or concern about dementia. It is staffed seven days a week by specialist dementia nurses, Admiral Nurses, and is free to call on 0800 888 6678.
Lewy body dementia is the second most common form of age-related neurodegenerative dementia. It is thought that around 130,000 people in the UK are living with this common, but little known, disease.
From today, when anyone affected by Lewy body dementia, whether they are a person living with the disease or a carer for a relative or friend, calls the Lewy Body Society, they will be directed to the Admiral Nurse Dementia Helpline for advice and support.
This might include information about treatment options; understanding the differences between Lewy body dementia and other forms of dementia, such as Alzheimer's or vascular dementia; or strategies for looking after yourself as a carer of someone with dementia.
A valuable partnership
Jacqueline Cannon, Chief Executive of the Lewy Body Society, said: "It is essential that people living with Lewy body dementia and their carers have access to expert advice and information, to help them understand the disease and how to live with it. Rather than duplicating and providing this service ourselves, we are delighted to partner with Dementia UK and signpost people affected by Lewy body dementia to the excellent Admiral Nurse Dementia Helpline.
This allows us to focus our efforts on our core objectives of funding research into the diagnosis and treatment of Lewy body dementia, and raising awareness of the disease.
Paul Edwards, Director of Clinical Services at Dementia UK, said:
This is a valuable partnership in which the Lewy Body Society is able to concentrate its efforts on research into this particular type of dementia, while Dementia UK's Admiral Nurses can provide the compassionate and knowledgeable support and advice that families affected by dementia need.
Read more about dementia with Lewy bodies.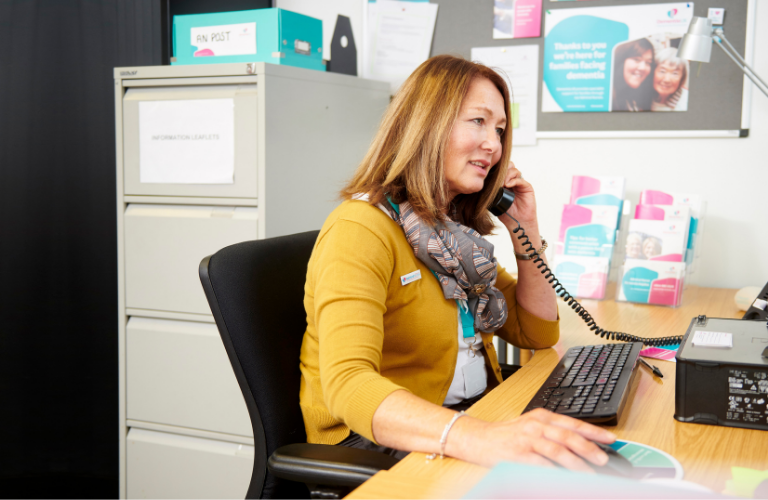 Call or email our Dementia Helpline/Alzheimer's Helpline for reassuring and practical advice from our specialist team of Admiral Nurses.
Help us raise vital funds, improve care and support for families facing dementia and spread the word about our specialist dementia nurses.