The Barratt Foundation provides vital support to our Helpline
Publication date:

February 25, 2021
Dementia UK is delighted to be one of the ten charities benefiting from the launch of the new foundation of the country's largest housebuilder, Barratt Developments. To mark the launch and celebrate the milestone of building its 500th home, Barratt Developments is donating £500,000. As part of this process, they asked staff to decide the level of donations for each of the ten charities, through a staff vote.
The Barratt Foundation is providing a generous £75,000 donation to help fund our vital Admiral Nurse Dementia Helpline. This was the second largest donation out of the pool of ten charities, so we are incredibly grateful to every member of staff who voted for Dementia UK.
David Thomas, chief executive of Barratt Developments, said:
We have launched the Barratt Foundation to help us provide more support to charities like Dementia UK which do such important and valuable work in our communities. We are delighted to be donating £75,000 to them as part of £500,000 we are giving to charity to mark both the launch of the Foundation and building our 500,000th home.
Our national Helpline helps to ensure that anyone, anywhere in the UK can access expert support and advice from a dementia specialist Admiral Nurse every day of the week, giving them practical and emotional support wherever they are. Since the start of the pandemic, the demand for our Helpline has increased significantly. Last year, our Helpline Nurses supported 27,624 – that's a 34% increase, compared to 2019. So, this donation comes at a critical time and will help us be there for every family who needs our support.
The £75,000 from the Barratt Foundation could cover the basic call costs for 26,250 people contacting the Admiral Nurse Dementia Helpline, so calling a specialist Admiral Nurse is always free.
Thank you so much to the Barratt Foundation for this very generous support; it comes at a time when families facing dementia need our specialist advice and guidance more than ever. Due to the pandemic and subsequent loss of support services, many families living with dementia are more isolated, distressed and experiencing a deterioration in their health and the health of their loved ones. A big thank you goes out to every member of Barratt staff who voted for Dementia UK. This donation will help nurses, like me, be there at the end of the phone for the thousands of families affected by dementia in the UK.
-Paulette Winchester-Joseph, the Deputy Clinical Lead of Dementia UK's Helpline
Dementia UK is completely reliant on voluntary donations to fund our specialist services. We are very grateful to companies, like Barratt Developments, for helping us to make sure that no one faces dementia alone through donations and corporate partnerships.
We work with a range of companies, across various sectors, and our Corporate Partnerships team works hard to build mutually beneficial partnerships. If you are interested in hearing more about how to support us through your company, please get in touch with us via corporate.partnerships@dementiauk.org.
An Admiral Nurse is a dementia specialist nurse that provides life-changing care for families affected by all forms of dementia.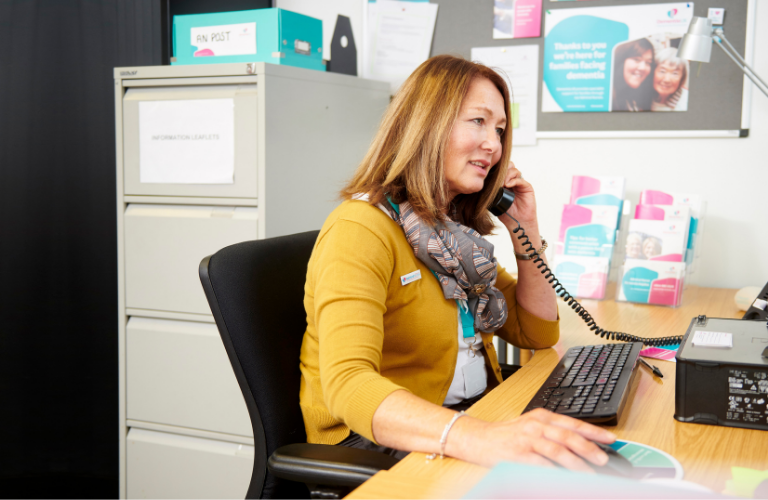 Call or email our Dementia Helpline/Alzheimer's Helpline for reassuring and practical advice from our specialist team of Admiral Nurses.