New Admiral Nurse for North Somerset's Weston General Hospital
Publication date:

September 20, 2018
North Somerset has appointed a new Admiral Nurse for Weston Area Health NHS Trust (WAHT) at Weston General Hospital. Sarah Oakwood will play a key role in ensuring that people diagnosed with dementia, along with their carers and families, will have the best possible access to support following an admission to hospital.
20 years of experience in dementia care
Sarah joins the hospital with over 20 years of experience in dementia care across a variety of roles. She has led projects, developed new services and piloted new and innovative ways of working. This includes dementia training services in partnership with social care in the community and older adults' mental health liaison services within primary care and acute hospital trusts.
Having already worked in mental health liaison within Weston General Hospital, Sarah already has an in-depth view of how this particular acute hospital service runs.
Immensely proud
Sarah said:
I'm immensely proud to be offered this important role within dementia care at the hospital. Becoming an Admiral Nurse is something that I have been passionate about for a while so I'm excited to see how this role will develop.

Dementia is a challenging condition and families often do not know where or who they can turn to. To be able to provide tailored emotional and practical support to families in situations like this is very heartening.
Alongside supporting families, Sarah will be supporting best practice in dementia care amongst other healthcare professionals within the hospital. She will be pivotal in ensuring that families are kept involved and informed following the person with dementia's admission into hospital. This will include building up bases of support following discharge from hospital so that families can continue caring for the person with dementia.
Sarah Dodds, Director of Nursing at WAHT, said:
The successful appointment of Sarah Oakwood as a full-time Admiral Nurse at Weston General Hospital, delivered as a partnership with the charity Dementia UK, is a fantastic opportunity to take forward the care we give to patients with dementia as well as the vital support that can be offered to their carers.

Sarah will have an amazing impact on dementia care within the hospital and wider region.
Dr. Hilda Hayo, CEO and Chief Admiral Nurse at Dementia UK, added:
We are seeing an increasing number of people with dementia being admitted into acute hospital settings. They usually have physical health conditions alongside dementia, and this can make it very difficult to provide the care and support they need. It is vital that they have access to appropriate and robust pathways of care whilst they are in hospital and when they are discharged.

Sarah will have an amazing impact on dementia care within the hospital and wider region. A key part of her role will be supporting families to live as well as possible with dementia, and ensuring that the relevant health professionals are equipped with her fantastic breadth of dementia expertise and experience. Welcome to the Admiral Nurse team Sarah!
Dementia UK currently has 249 Admiral Nurses with 11 now working in acute hospital settings.
The service will be accessed via a referral system, and all referrals will be triaged by Sarah, so that families facing the most complex cases of dementia get the support they need in a timely way.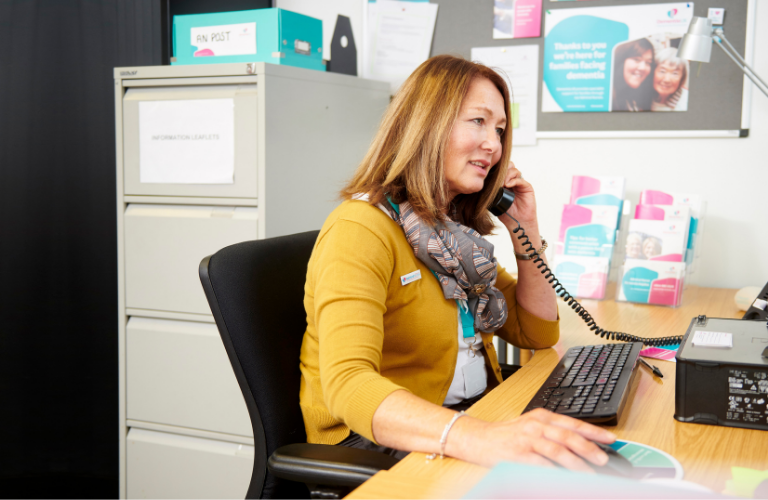 Call or email our Dementia Helpline/Alzheimer's Helpline for reassuring and practical advice from our specialist team of Admiral Nurses.
Help us raise vital funds, improve care and support for families facing dementia and spread the word about our specialist dementia nurses.