Admiral Nurse Kerry Lyons wins prestigious Commitment to Carers Nursing award
Publication date:

October 28, 2020
Admiral Nurse Kerry Lyons is the winner of the Commitment to Carers category in the RCNi Nurse Awards 2020. These awards from the Royal College of Nursing celebrate excellence in the profession.
Kerry single-handedly runs the Bolton-based Admiral Nurse service which, since it began in April 2019, has supported many families with dementia across care settings, including out in the community and in hospital.
We caught up with her about this huge achievement and her ambitions for the future.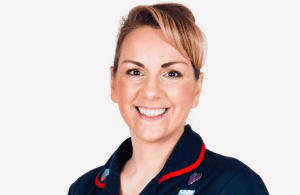 Firstly, congratulations on winning this award! How does it feel to be recognised in this way?
Thank you, I am really delighted. Recognition like this helps to raise the profile of the valuable contributions an Admiral Nurse can make. I hope that me winning this award helps to grow the number of Admiral Nurses and, as a result, enables more families to access the vital support that we can offer.

I also want to say a special thank you to my Consultant Admiral Nurse Pam Kehoe. Her knowledge, skill and guidance has really supported me in developing the Bolton Admiral Nurse service.
What does Admiral Nursing mean to you?
As an Admiral Nurse, I am able to provide the specialist support that families need to face dementia.  This role enables me to support the whole family, both emotionally and practically, to understand dementia, and to be able to plan accordingly for future needs.

I feel truly privileged to be an Admiral Nurse; we are welcomed into someone's life, often at times of crisis. The trust that we are given is amazing.
Tell us a little bit about your approach to care
In my role, I bridge the gap between hospital and community settings. Doing this ensures that families and people with dementia have prompt and expert access to support and guidance at any stage of the condition.

A diagnosis of dementia can have a huge impact on a person's life, often leading to a wide range of emotions including grief, loss, anger, shock, fear, disbelief and even relief at finally getting the certainty of a diagnosis.

Admiral Nursing is about caring for the whole person. Family and person-centred care is at our core.
How have you adapted your ways of working in response to Covid-19?
I currently use a wide range of approaches to support my families: 1:1 sessions, home visits, telephone and video consultations. I am now also delivering my community support and activity groups via virtual platforms. It has been a real learning curve, but I am adapting.
What challenges does your service face?
The biggest challenge currently is Covid-19 and the huge impact that it is having on my families. At the moment, access to practical care support is very limited; community and day care centres are closed. These were a valuable opportunity for families to socialise and get support.

As well as this, when a person with dementia is in hospital or 24-hour care, carers are often unable to support them, making an already stressful situation even worse.

These challenges have strengthened my working relationship with the community teams. We are working closer than ever before to ensure that community support is available, to avoid crisis admissions to hospital.
What are your hopes for the future?
More Admiral Nurses! I would love to see several Admiral Nurses in every hospital, and a team in every community.

On a personal note, I hope that as a nation we all come out of Covid-19 valuing each other a little bit more, with care, kindness and consideration for those around us.

I look forward to the day when we can reach out and embrace each other without the fear of Covid-19.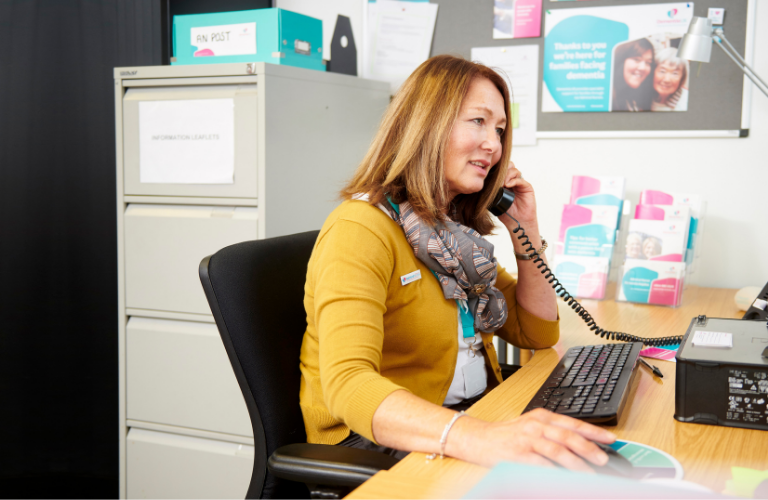 Call or email our Dementia Helpline/Alzheimer's Helpline for reassuring and practical advice from our specialist team of Admiral Nurses.
An Admiral Nurse is a dementia specialist nurse that provides life-changing care for families affected by all forms of dementia.