Colin's story: "I always felt fully supported by our Admiral Nurse"
Family carer Colin Appleby explains why he has added a gift to Dementia UK in his Will.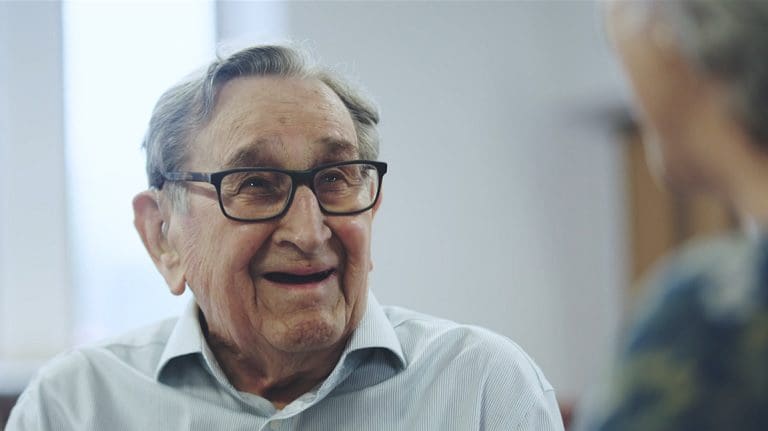 Family carer Colin Appleby explains why he has added a gift to Dementia UK in his Will.
"Dementia UK trains Admiral Nurses. My late wife, Trixie, was diagnosed with Alzheimer's and we received wonderful support from one such Nurse, Loraine, and the network of Admiral Nurses in general.
The most useful piece of advice my Admiral Nurse gave me about caring for my wife was to 'enter into her world.' I used to feel guilty about lying to Trixie when she asked questions like 'when is mum coming over?' but my Admiral Nurse helped me to see the situation differently, and to reassure Trixie, which made her less stressed. Over time, I gained considerable knowledge of how to conduct myself when meeting and talking to someone with dementia."
Colin was very grateful for the amount of time his Admiral Nurse, Loraine, spent with him and his wife – he never felt rushed. "It was some time into her regular visits to us that I realised we weren't her only customers! I always felt fully supported."
Through thick and thin
Admiral Nurse Loraine explained, "We Admiral Nurses see people through thick and thin. The families we work with feel us on their side, working alongside them. We have a holistic and flexible approach to family needs; getting to know them, helping the family to understand the diagnosis and changes the person living with dementia may be experiencing and helping to maintain wellbeing. We get to know families, like Colin and Trixie's, really well and can work with them and help them over the length of their dementia journey."
As a 'thank you' for the support he received from his Admiral Nurse, Colin decided to add a gift into his Will. "When my wife died, I sold our home and moved into an apartment. I had some spare cash and decided to leave some to Dementia UK. This is by way of a thank you for their help. I feel as though I will have made a contribution to their work. It was very easy to include the legacy in my Will. The solicitor was most helpful."
"If you are considering leaving a gift in this way, please don't hesitate. It doesn't have to be thousands of pounds. After all, we wouldn't have lovely beaches if it weren't for many, many tiny grains of sand."
If you would like to help Dementia UK ensure that there are Admiral Nurses to support future generations, order our guide to Gifts in Wills or contact Naomi Hall via email or telephone on 020 8036 5450.