You are here: Home / Latest news / World Book Day – supporting people with dementia and their family carers to continue reading
World Book Day – supporting people with dementia and their family carers to continue reading
March 7, 2019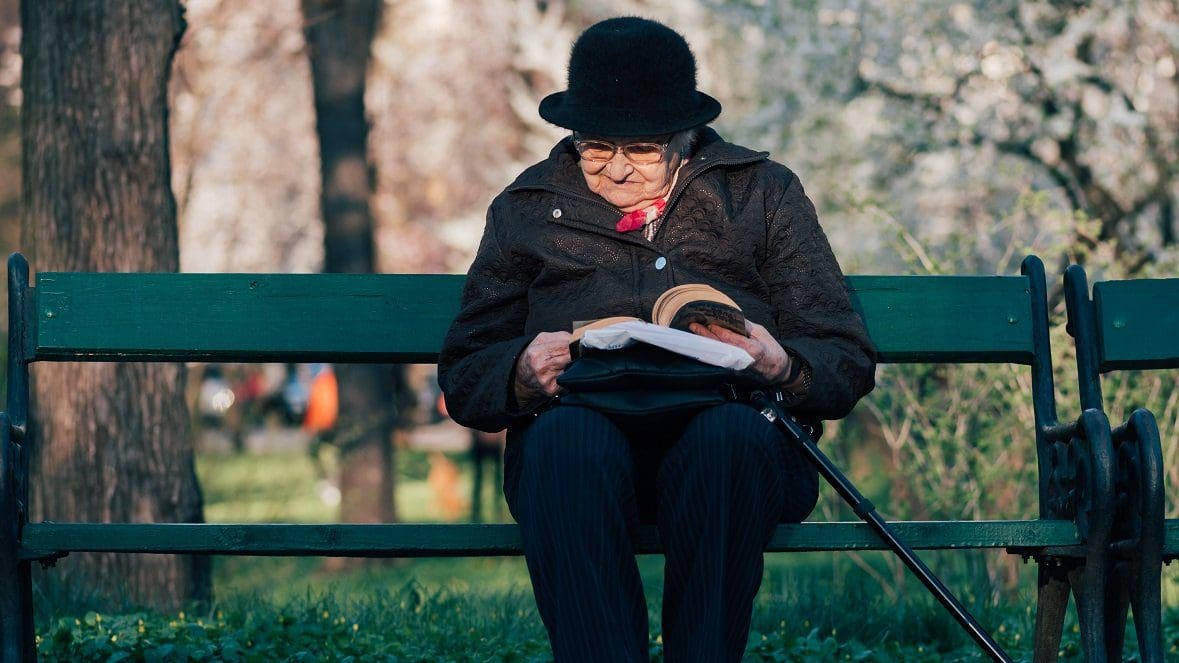 In this guest blog, Dementia UK's Practice and Professional Development Lead, Rachel Thompson, tells us about some of challenges reading poses to people affected by dementia, as well as the initiatives working to face those challenges.
Books can provide a great way of sharing views and ideas
Many of us get great pleasure from reading: from the ability to escape into a different world, through to being informed about new ideas or knowledge. Books can provide a great way of sharing views and ideas and can be a great source of conversation. Reading is also an important way of keeping our minds active or 'cognitively stimulated'.
Unfortunately for people with dementia reading can present a challenge.
This may be due to changes in the brain, which make interpreting visual information difficult or as the condition progresses people may have problems with concentrating or following a plot in a story.
It is also known that many people with dementia have problems with sight loss, and eye tests may not carried out regularly. All of these things will affect someone's ability to read and enjoy the pleasure that books can bring.
However books can be important to who we are, they can represent our choices, our preferences and tastes. Some people may prefer science fiction or fantasy, others may prefer autobiographies or novels about people's lives, and some prefer more factual books based on history or books that teach them a new skill or provide new knowledge.
We are all different; as are people living with dementia and their families.
Support people affected by dementia to continue to enjoy books
So how can we support people affected by dementia to continue to enjoy books even when they struggle to read? How can family carers enjoy reading when they feel hard pressed to find time?
For the last few years Dementia UK has been supporting the work of the Reading Agency who have initiated a number of useful projects about the importance and value of reading.
'Reading Well; Books on Prescription' provides a useful list of recommended books for both people with dementia and family carers, which aim to provide information and support. These books are made available to all libraries and can be bought directly.
Their recent project Reading Friends, funded by the National Lottery has involved training volunteers in six areas across the country to help connect people by starting conversations through reading. The project was co-designed with people with dementia and carers and aims to empower, engage and connect older people who are vulnerable and isolated.
Volunteers have been trained to support people with dementia, and are giving this support to groups in libraries, care homes and sheltered housing, as well as in people's homes.
They are hoping to expand their offer to other areas of the country and you can find out more here.
What can we do to help people with dementia continue to enjoy reading?
Find out what books people used to read OR if they weren't avid readers they may have memories of reading books at school?
Try reading to them– this can be a nice activity for children to do with their parent or grandparent
If the person has difficulty with concentrating, try short stories, poems or picture books. These can evoke memories and help start conversations, which can bring great pleasure and help the person reminisce
If the person is unable to read themself but still wants to be able to enjoy books, you could try 'Talking Books'. These can be found in most libraries or online. For people with visual impairment, see the RNIB website for their free Talking Books library.
You can also buy a simple MP3 Book Player. See Calibre Audio library for an example.
For people in the earlier phase of dementia: there are a growing number of books now available that have been written by people with dementia. These can be both inspiring and reassuring for all those affected
For family carers:
Make sure you find time to relax and enjoy reading, if this is something you used to do. Making time for yourself is important as it will help sustain you and keep you going
If you want to find about more about dementia, what to expect, and practical guidance, there are some useful books in the Reading Well; Books on prescription series.
Think about joining a book club or social group – talking about shared interests can be a great way of relaxing and improving wellbeing
Talk about books and read to the person you care for; sharing your favourite stories, poems or texts can help maintain a sense of connection and provide an activity you can do together
As it's World Book day, my final thoughts are:
Dementia doesn't mean you need to lose the pleasure of books; find a way to keep reading and/or share conversations about reading. Why not make a list and share some of your favourite books? To help you get started, mine include:
From childhood: Stig of the Dump by Clive King and the 'Lion, witch and the Wardrobe by CS Lewis
From young adulthood: Lord of the Rings by JRR Tolkien
Mid 20's: The Colour Purple by Alice Walker
From being a parent: Most of the Dr. Seuss books
Most recent favourite book: Three Things about Elsie; Joanna Cannon
Now it's your turn! Enjoy World Book day!