St Oswald's Hospice Launches Admiral Nurse Service
Publication date:

March 6, 2019
We have partnered with St Oswald's Hospice, Newcastle upon Tyne, to provide a specialist dementia nurse. This new role will enable local services to better support people with dementia and their families during the progression of dementia as well as during the end of life and post bereavement stage.
Maya will play a significant role in creating an end of life care pathway for the increasing number of people living with dementia in Newcastle. In order to alleviate distress and increase support in what can be a very distressing time for families, Maya will connect local palliative care teams, community nurse services, other Admiral Nurse services as well as support and therapy teams.
Admiral Nurses provide the specialist dementia support that families need. When things get challenging or difficult, these Nurses work alongside people with dementia, their families and carers: giving them one-to-one support, expert guidance and practical solutions they need to face dementia with more confidence and less fear.
Maya Gorton has previously worked for St Oswald's Hospice as a nurse on the Adult Inpatient Unit but has always had an interest in dementia care particularly end of life care. She has been a dementia link practitioner and a dementia champion in her role prior to working for St Oswald's.
Maya Gorton, Admiral Nurse based at St Oswald's Hospice, said: "I am so proud to be able to help families access the dementia support they need. When someone living with dementia nears the end of their life, it can be challenging for families on so many levels; physically, socially as well as emotionally.
Everyone should be entitled to good end of life care which respects their needs, rights and wishes – it's a privilege to be able to offer this to families affected by dementia in my new role.
Angela Egdell, Director of Care at St Oswald's Hospice, said: "We are delighted to have Maya with us in her new role as an Admiral Nurse and we look forward to seeing the positive impact she will bring to St Oswald's and to the local region, supporting people living with dementia and their family, friends and carers.
We are very grateful for the funding given by Ballinger Charitable Trust, Sir James Knott Charitable Trust and Catherine Cookson Charitable Trust. As a registered charity we rely heavily on voluntary giving to help us raise over £7.5 million each year towards our £12 million operating costs. It is only through the support and kindness of organisations like Dementia UK and Charitable Trusts like these that we are able to do that.
St Oswald's Hospice has partnered with Dementia UK to provide the service. Dementia UK will continually train, develop and support Maya in her new role, as well as giving her access to the entire UK network of highly specialist Admiral Nurses, sharing skills and expertise.
Julie Allen, Dementia UK's Strategic Business Development Manager, said:
Maya is joining a growing number of dementia specialist Admiral Nurses working in a hospice setting and specialising in outstanding end of life care. We are most grateful for the generous donations from Ballinger Charitable Trust, Sir James Knott Charitable Trust and Catherine Cookson Charitable Trust which have allowed us to set up this post. Maya will play an important role in ensuring that the increasing number of families living with dementia in Newcastle are supported when times are challenging for people affected by dementia in the later stages of life.
The service can be accessed by people registered with a Newcastle GP who have a diagnosis of dementia and are deemed to be in the advanced stages, including their families and carers.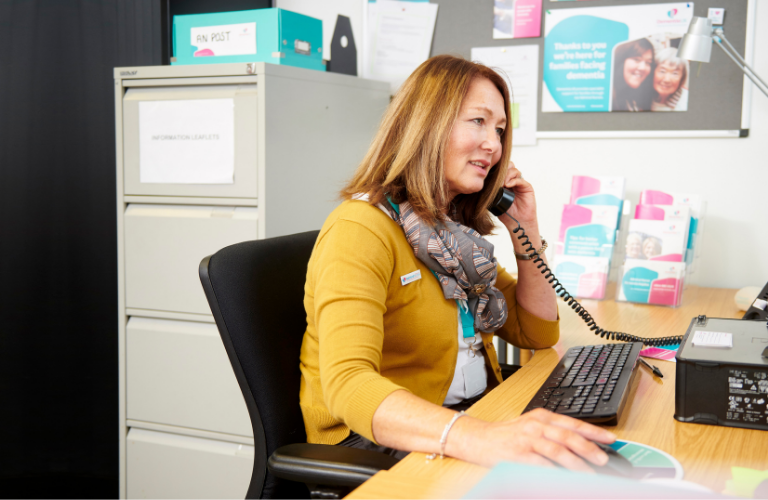 Call or email our Dementia Helpline/Alzheimer's Helpline for reassuring and practical advice from our specialist team of Admiral Nurses.
Admiral Nurses are specialist dementia nurses who provide life-changing support to families affected by all forms of dementia